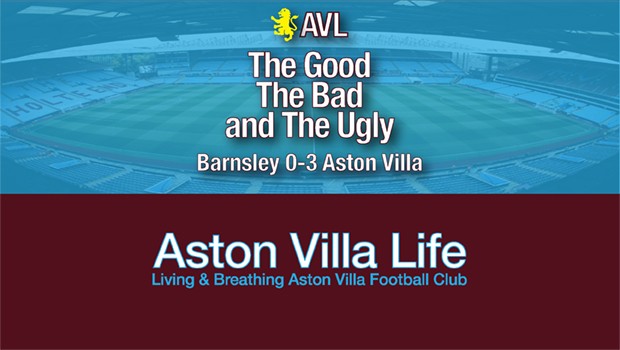 Villa returned to winning ways Saturday with a 3-0 win away to Barnsley. Albert Adomah had two, one from the spot, and Keinan Davis finally got his first senior goal, the one that had been so long coming. It was comfortable in the end and Villans finally got to enjoy a day of football without seeing anything truly upsetting.
So let's break it down.
The Good
Three goals, three points. A clean sheet. Away. Cause for celebration, indeed. Beleaguered Steve Bruce got the result he, and the team, desperately needed, following two goalless draws.
Moreover, Villans saw Kodjia make his first start of the season, paired up with Keinan Davis. It was Davis actually leading the line, with Kodjia ranging far and wide in a free role. We'll call it 4-4-1-1 for the sake of calling it something. Seems close enough.
Anyway, it was the right move from Bruce. Likewise keeping Hourihane in the side, and playing Adomah wide left in place of the unfortunate Andre Green. The attacking momentum that Green, Davis and Hourihane brought remained in place with Adomah in there, and was bolstered by the always threatening Johny Danger.
Kodjia, of course, was more than a bit rusty on the day, and probably will take a while to find the free-flowing form of last season. But getting Davis and Kodjia on the pitch together is the right idea, and credit to Bruce for making the selection.
New-boy Robert Snodgrass, while showing signs of rust himself, showed that he can be a valuable addition to the side. A willing runner, combative, committed, always looking to attack, never shirking his duties. He looks a man with something to prove.
Adomah, of course, had a very good game on the other side. Likewise full of running, unselfish, willing to take men on, and get back to cover. As Bruce noted, his attitude has been exemplary, and he took the opportunity to make his case very strongly.
Hourihane, while not featuring so much as an attacking force, played the midfield terrier very well, supporting attacks, defending, and was generally everywhere. Very good performance from him, again, and very encouraging to see the awareness he showed taking up a slightly different role.
Davis, for his part, had a fine day, indeed, playing the target man with strength, skill and threat. He was given a fair amount of attention by the defense, much of it a bit on the edge, but he handled it well, linking up play, giving Kodjia room to roam, and, of course, scoring himself. And that was a big goal for the lad. He's come so close so many times, you knew it had to be coming, but it has to be a massive relief to him. Further, he earned the penalty that Adomah converted.
So…good set-up, good performances, good day. No complaints here.
The Bad
You know I've got to nit-pick, and few performances are ever perfect. First, it was Barnsley. And Glenn Whelan once again failed to really justify his inclusion relative to the performances of others. He works hard, he knows where to be, he's committed. All good things. He just doesn't have the range you'd like to see, or the physicality, and has been a bit error-prone. A Hourihane-Whelan midfield might well get overrun by a better side.
But that's where tactics and team selection come in. We know Jedinak will be favored over Whelan in most instances, and I suppose if we were getting really defensive they might play together.
Villa were also a bit sloppy at times, and exposed down the flanks a bit. Adomah's first was down to the Barnsley's keeper, Davies, making a dreadful mistake, though Adomah did well to chase it down, get in the keeper's head, and then calmly push it home. Not sure where the game would've gone without that breakthrough, or if Davis hadn't been brought down.
But then, you never know these things. That's what happened on the day, we made them pay, and that was that. Certainly brought a little balance to the ledger after a distinct lack of luck against Boro.
The Ugly
Don't really know why the Barnsley crowd felt the need to throw bits of paper at us, but it was rather uncalled for. Unless they were looking to emphasize the need for a larger clean-up staff.
Final Verdict
I'm not going to overdo this: swallows, summer, corners, dawns, and green shoots. How many times have you read those words or typed them yourselves?
However, we did see a side that clearly weren't playing to see Steve Bruce out the door. We saw a side that, to borrow an observation from yesterday's comments, did start to show a bit of swagger once they were comfortable. We saw a side that looked cohesive, hard-working and full of potential.
For me, the key has been the emergence of Davis and Hourihane. They've given us a way to play in the middle of the park and take pressure off the wide men, bringing balance to the Force. Er, Villa. Hourihane's energy and instincts, combined with a skillful hold-up man who will become a more regular scorer, bode very well for a fit Kodjia, who should find himself having to create from nothing much less often.
Moreover, the game plan for opponents will have to evolve. They won't be able to focus on us playing down the wings and crossing to no one over 6 feet (okay, Davis is listed at 6-1). Davis will come in for a lot of attention, and he's going to have some very tough days out there in his role. But there's a quiet strength about him that I like the look of. The players' reaction when he scored, never mind the fans', said a lot…and might turn out to be something we look back on as a moment when we saw these players come together and start to believe. There did seem to be genuine comraderie.
Now, if Villa can catch this wave and ride it through the next few fixtures, we might have an actual starting XI, be further up the table, and one day be sharing fond memories of the Steve Bruce era with our children. Hey, you never know.
The main thing is that we've asked for signs of progress and we got one. Obviously much sterner tests lie ahead, but the favorable run of September fixtures is the perfect period for this side to settle in, gather some momentum and, dare I say it, confidence.
We've got Middlesboro again on Tuesday for the cup tie, and that should be a very interesting match. Dunno how serious Davis's knock is, seemed to be the hip, Bruce said it was cramp, so I'd imagine we won't be seeing him. But it does present a chance for the likes of O'Hare, Doyle-Hayes, and Scott Hogan to keep working together, and I, for one, will be more than curious to see the team selection. Bruce has enough talent at his disposal to field virtually two sides, and if the "B" team follows Adomah's example, fights to impress and puts in another good performance, Bruce could find himself with selection headaches down the road.
So, well done the boys, and credit to Bruce for getting it right. Let's hope Cardiff and Reading were just blips not be repeated against better sides than Barnsley, and give thanks for the circumstances that put Davis, Hourihane and Green together, pointing the way forward. We'll leave Brentford at tired and jaded.
Over to you.