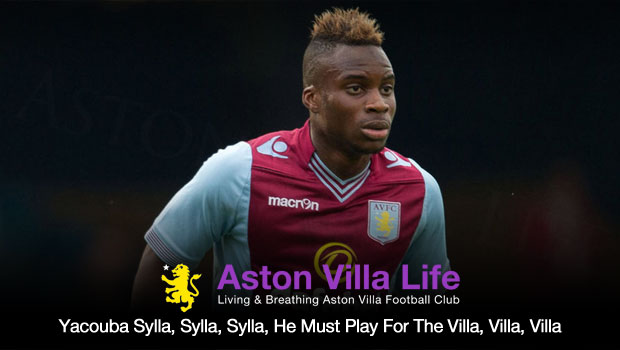 The midfield department at the Villa has been a trigger of many a headache for the claret & blue faithful in recent times; creativity, guile, vigour, width, assists and goals has all been far too sparse.
It is in this hotbed of malfunction that a rough gem has begun to slowly but surely shine and glisten, and there can be no doubt that the team is better with one man on the team sheet. Who is that man? Yacouba Sylla.
There is no doubt that Villa's points to game ratio is greater when Sylla is in the starting line up, so is the Mali international a real necessity in the first team rather than an option?
Paul Lambert's team selections are often akin in nature to that of Claudio Ranieri's in that both are prone to over indulging in squad rotation. During Claudio's time in England as Chelsea manager, the British media dubbed him "The Tinkerman" such was the extent to which he would change his starting line-up. Perhaps Lambert needs to realise that the Clermont Foot graduate simply must start for Villa?
Sylla arrived at the club on the closing day of the January transfer window for less than a million quid and, at the time of his arrival, the club was well and truly embroiled in a battle for Premier League survival.
You could argue, perhaps very strongly, that joining at such a time was far from the best circumstances in which a young player could flourish, especially when combined with the fact that this young man was also from another country, meaning he not only had to get up to speed with the football, but with the language too.
At the time, many a Villa fan looked with envious eyes at the signings other relegation rivals – to state the claret & blue masses were underwhelmed with the club's January transfer dealings was an understatement.
Despite the hostile environment Sylla encountered upon his arrival, it could be argued that the player has flourished to a degree. Defensively his abilities are there for all to see, as is his obvious physical presence, but what his game seems to lack is his contribution when Villa have the ball.
However defensive midfielders like Sylla are a rare commodity in the modern game as was evident with the fee Victor Wanyama commanded when he swapped Celtic for Southampton last summer – in that sense Villa might argue that they have a real bargain in the Malian, a rough diamond who could well be polished well beyond his current ability level.
Going forward I'm sure we will see a lot more of Yacouba Sylla and who knows what kind of a player he may become but his potential indicates he will become a very, very decent one. Having him on board gives Villa a chance to move forwards a step, hopefully in a direction that will mean real progress, and not the same old stuff we've been served for the last few years.
How will Villa get on? Nobody knows, but surely nobody can argue that the club's short term progress must include Sylla in the first team.