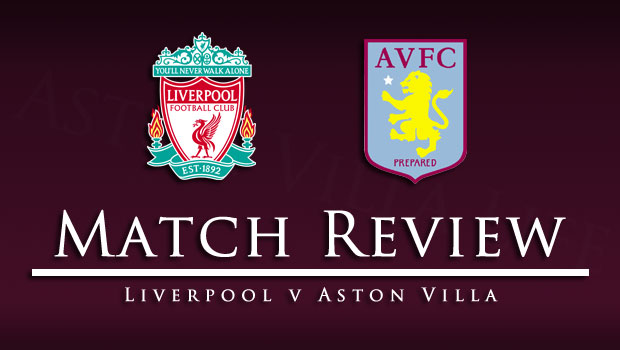 Christian Benteke. Andreas Weimann. A bunch of kids and three goals at Anfield for Villa's second win at Liverpool in 10 years. The excellent cup form again on display Tuesday night finally carried over into the league, and while Villa didn't have many chances playing on the counter, they took those chances clinically.
It was a terrific team performance that saw Lambert's tactical choice to sit back and counter proved right. While Liverpool had plenty of possession and crisp, accurate passing, never mind an absolute boatload of "chances," they failed to convert anything until late and down 3-0. And for all the possession, there really weren't that many convincing opportunities, never mind attempts.
Instead, it was Villa, completely against the run of play, who opened the scoring at 29 minutes when Brett Holman slid the ball to Benteke, who calmly stroked it into the near corner and past a surprised and despairing Pepe Reina from at least 23 yards.
Not long after, Andreas Weimann almost lobbed Reina, but the ball landed on the roof of the net.
Never mind, though, because at 40 minutes Benteke and Weimann combined to produce a beautiful move and goal, with Weimann sending Benteke into the box and continuing his run to meet a brilliant backheel cross from Benteke, which he authoritatively slid under Reina to put Villa two up.
And that's how the sides went into the half, with probably most every Villan wondering how quickly Villa were going to capitulate and either draw or go on to lose in the second.
Liverpool came out brightly after the re-start, and it very well looked like that pessimism might be well founded.
But at 51 minutes, Christian Benteke showed strength, composure and class to go into the box, fight off challenges and stroke it past Reina for 3-0.
And you knew then that this game would be different.
From there, Villa quite comfortably sat back in the 3-5-2, which really was looking like a 5-3-1-1 at this point, and showed great discipline and concentration, letting Liverpool have the ball wide, but keeping a solid back line, with Ashley Westwood and Barry Bannan sitting in front. Lowton, Herd, Baker, Clark, Lichaj…They did enough, and looked comfortable enough doing it. Ciaran Clark is growing in stature with every appearance, and Baker and Herd have proved able companions.
Suarez, Gerrard, Sterling and Johnson were always posing danger, but somehow Villa thwarted everything, and it started to shift from looking like Villa might be riding their luck to looking like Villa knew what they were doing.
Liverpool grew increasingly frustrated, and indeed, the best chances were penalty shouts that on further review the referee rightly refused to award. And this was huge. You could tell Liverpool were almost feeling entitled to those decisions, those kinds of telling breaks, and when they weren't given, they almost didn't seem to know what to do.
So, an excellent and perhaps unexpected three points at Anfield. More important, an extremely young side taking their chances, and playing with the sort of discipline and composure that belies their years.
It really was an excellent tactical plan and execution, and that's what we can feel good about. Never mind the growing legend of Benteke, who is such an influential player, and Andreas Weimann who seems to be a perfect partner for him. To see them both score from open play, and to see Benteke take both his chances so well…it was a welcome and strange sight.
As we've said many times, it's all about taking your chances and scoring goals, and Villa did that brilliantly today. All the quality and possession for the men in red made little difference in the end.