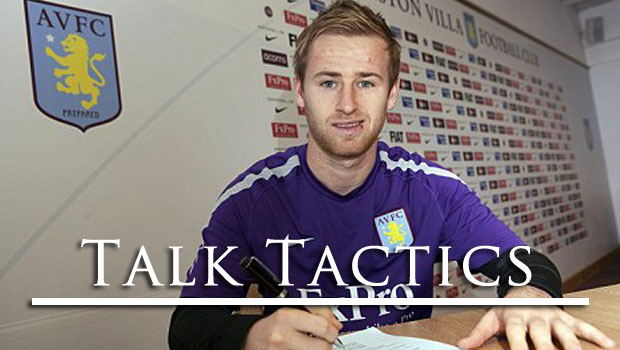 I should first point out that today's "Talk Tactics" column isn't following the same structure as my game analysis pieces. Instead, this piece serves to ask questions about the overall tactics of buying, retaining, and selling youngsters as part of the club's ecosystem.
After sitting down and looking at how fans have reacted to certain players in our team, and their performances (or a lack thereof), it made me think about how youngsters often get cut far more slack from fans before, at some undefined point, the expectation on these individuals lead to criticism and the inevitable collapse under the weight of crowd pressure. Is this a universal concept at all clubs, or a particularly bad problem at Aston Villa?
With obvious reason, the focus will be put on our own young players, but with youth being defined as players under 24 who are currently at the club. Some may well make a strong argument to say that "youth" indicates a far younger group of individuals, possibly those who are in the under 21 bracket, but the reasoning for picking out 24 as the marker will become self evident.
I also wanted to look at when a promising youngster becomes something else, whether as a result of achieving success or, as is more often the case, due to a failure to display the required attributes to compete at Premier League level.
Focusing on the latter topic first, there is some sort of hard-to-delineate switch that flips at a certain point in a young player's career. At this point, a player goes from being mostly supported and lauded as a future star to something else. For many who would be around this tipping point, the likes of Barry Bannan and Nathan Delfouneso being two candidates that spring to mind, their Premier League future, or rather their Aston Villa future hangs in the balance.
For fans, questions invariably get asked about players who are not doing as well as they should do, but who still manage to stay as a named player in the squad, without actually challenging the first team.
This, by design, leads me back to my first point – the reason why I delineated youth as a player under the age of 24. Under the terms created as a result of the Bosman dealing, any club who owns the contract of a player under 24 is protected by virtue of a tribunal system. If another club wants to purchase them against the wishes of a player's current club, even if they are out of contract, a tribunal is set to evaluate the cost of losing this player. After the age of 24, the lucrative – in player terms – Bosman ruling kicks in leaving clubs facing players being able to leave at a limited or no value fee depending on the closeness to the end of their current contract.
Logic may determine that Bannan, as an example, may not be a future player for Villa. However, with his salary likely at a more modest level when compared to those earning high wages in the upper echelons of the first team, retaining Bannan's services – whilst he has a value that can be extracted if a team wants him – may well make sense for the next few years at least.
That is because, all things being equal, selling a young player will yield a return, even if they are out of contract. If the prospective sale price of a player only amounted to a couple of million pounds, maybe even as much as five million, retaining their services is relatively cheap, and offers some financial reward on their exit, something that disappears when a player reaches 24.
Taking this analysis deeper, one can understand the logic of Paul Lambert filling his team with young players who have a desire to play well. Assuming the players perform as expected, it means either an improvement for Villa's squad or a likely sale of said player(s) for a profit. If things go wrong, youth rarely has a significant cost in financial terms, certainly not when contrasted with the figures bandied about at the top end of Villa's wage bill.
Getting away from the club view and back to the fan's perspective, I often wonder at what point fans switch their view of a player from a youngster who is often perceived to be allowed to make mistakes in the eyes of a fan, to the point where said player will become denounced and abused as a result of their mistakes.
When is this magic age? It is at 18? 20? 24?
Logic would dictate that the age is certainly lower than 24 considering the amount of abuse I have seen hurled at Marc Albrighton for simply getting a cross a few yards too long. Albrighton, a player who will turn 23 in a couple of months, clearly seems like fair game when fan anger is concerned, but then one could argue that, certainly as the team currently stands, Villa's sole true winger may not have more of a future in B6 anyway.
So if Albrighton can be screamed at for errant passes in his early 20s, why is it that Gary Gardner seems to get away with it? It's an honest question that is meant to elicit honest answers. Is it because Gardner is seen as having more potential? Arguably I would say Gardner has displayed no more or less potential than Albrighton had at Gardner's age, however Gardner's injury record certainly poses question about his longevity in a game where he has already had two ACL injuries.
Perhaps it will be hard to define the exact time when fans decide a player isn't allowed those mistakes they were once expected to make. Is such an attitude beneficial for a team though? Should players beyond a certain age honestly be expected to be flawless? Professionals or not, the skill taken to deliver a ball at speed across tens of yards shouldn't be underestimated. For those balls that seem to miss the target by a few yards, the "issue" can be both the recipient or the deliverer, whether down to poor passing, lack of movement, or the opposition simply stopping the attacker's run.
Which, to digress slightly, is why I refrain from hurling abuse at a player who has seen his pass miss the mark by a yard or even ten. Football, a game that may well look effortless when the ball is at the feet of players such as Xavi, Cristiano Ronaldo, or Lionel Messi, is far from a precise art, even for players in the Premier League. For every player who has the amazing ability to deliver a ball on a sixpence, much like David Beckham did for Manchester United before leaving the country to play elsewhere, there are tens of players who will miss the target.
Some of this is down to natural ability, although any person close to David Beckham, or even a student of his career, will be quick to tell you that Beckham's work rate and attitude towards continuous footballing improvement is second-to-none. Beckham may well have been more gifted than the average player, but it is the addition of a non-stop attitude of improvement that puts him as close to a world class player as England have produced in the past generation of products.
Getting back to the youth, and the broader topic of mistakes in the game, perhaps Lambert's acquisitions offer a two sided series of benefits – not only are the youngsters hot prospects, but they also are likely to get cut more slack from a fan perspective as even Christian Benteke, Villa's biggest buy of the recently closed transfer window, is only 21.
What do you think? Is Lambert's vision of a youthful and determined Villa team as calculated as I illustrate above or is it simply a case of Villa buying at the level they can afford to at present? Let me know in the comments below.
Podcast: Play in new window | Download